Hospital Management System
The JVS Group EHR, EMR, HMS, HIS & CMS are clinical software solutions for multi-specialty and specialty practices. JVS Group offers services, such as patient scheduling, electronic claims submission, electronic statement production, mobile EHR solutions, a patient care portal, practice analytics, and communication options. These systems also provides resource scheduling, reporting and referral tracking. The JVS Group's electronic data interchange (EDI) solution facilitates statement management processing, claims management processing and appointment reminders. JVS Group products are to fit from Single User to 500+ Users in local network and with Wi-Fi option to connect and sync on Mobile Applications.
SoftClinic Software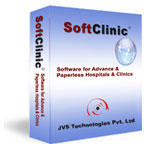 Healthcare is a very important part of our society and it is imperative for healthcare providers to do their jobs in an efficient and effective manner. Each day hundreds of thousands of patients enter healthcare facilities challenging the administration to run the show smoothly. The employees have to manage and integrate clinical, financial and operational information that grows with the practice. Previously, this data was organized manually, which was time consuming and failed to deliver the desired level of efficiency. Most professionally run hospitals and clinics now rely on SoftClinic that help them manage all their medical and administrative information.
SoftClinic is being used 1000+ doctors every day in India and 25 countries worldwide.Awarded one of the Best Hospital Management System Software by various Physicians & Surgeons Associations.
Powerful Features of SoftClinic Software:
Useful for General Practitioners, Surgeons, Gynecologist, Small to big hospital, Nursing homes, and all Physicians.
Generate Prescriptions in less than 60 seconds.
Easy to use patient visit details (OPD/IPD) modules.
Prescription in regional language.
Family wise patient records management
Billing and account manager for your accounting needs.
Detailed demographical and clinical data analysis.
Built in backup and restore facilities
Multi-user and LAN compatible
Compatible with any Windows 9x or higher version
Two Ways Synchronization
SMS Facility