Oncology Management
JVS Group helps you achieve these qualities in your IT strategy by providing you customize software development, data migration, system integration, testing, application development and management services and solutions.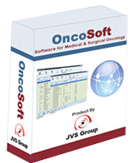 OncoSoft is an Oncology Information Management Solution (OIMS) that has been developed to support the multi-disciplinary team involved in the care of patients with cancer.
This standalone system is capable of integrating with the multiple applications used in both the public and private health systems
Data collection and legislative requirements are supported through reference to the following standards and documents: ICD-0, ICD-10-AM, AJCC Cancer Staging Manual, NCI Common Toxicity Criteria and NSW Clinical Cancer Data Dictionary.
OncoSoft has been developed in the clinical setting by those directly involved in Indian oncology practice, and with an eye on future and international requirements..
Powerful features of OncoSoft Software
Provide day-to-day detailed reporting of OPD, treatment and discharge summary
Create data bank of patients' data that can be used to present information in graphical formats, for easy
Interpretation of raw data
Generate various analytical reports to help in decision making.
State-of-the-Art Analysis utility helps to generate summary of patients' data on basis of various combinations
Along with the above features, OncoSoft is continuously updated to ever changing clinical requirements, thus allow you to use this software worry free for years to come